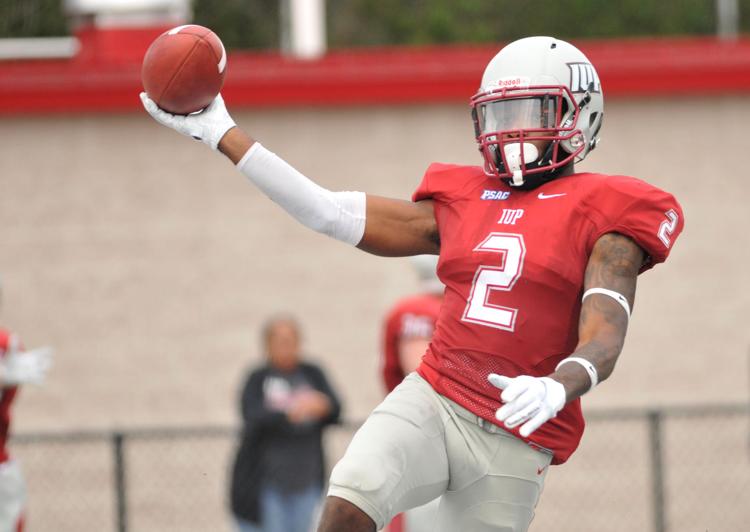 Tell us about your university/college. What was your major/minor? How is campus life?
The university that I currently attend is Indiana University of Pa. I transferred here the spring semester of my sophomore year from Long Island University. I like the student life at IUP. Coming from LIU, there was not much to do. My major is Business Management. When I transferred here, I moved into an off campus house so I could be out of the mix most of the time.
What do your teammates say is your best quality?
My teammates say that my ball seeking skills are my best. I am able to track the ball and catch it better than a lot of DBs.
What kind of role do you see yourself in on the team? What scheme and/or position suits your skill set?
My role I see myself in on a team would be the energetic player on the field, able to make a play when it is needed most. I feel like as a DB, I like man to man, but then again when I'm in zone it's easier to read the QB, feel the WRs and get interceptions. I am able to play in a man and zone defense.
Who is the best player you have ever played against in college?
Best player I have ever played against in college might be Roland Rivers. He's smart, mobile, and has an arm. 
Which one of your teammates impresses you the most?
Jamal Parker used to do crazy things in high school.
Describe a time in your life when you were able to overcome a struggle.
My senior year in high school, about 3-4 games in, I got a high ankle sprain and was out for the game. During school I had to wear a boot, and at practice. I was determined to get back on the field, it was my senior year. I needed as much tape as possible. I worked hard during the week with physical therapy and when the next game came, I still had pain in that ankle. I wrapped it up and went to play the rest of the season, rehabbing it and taping it. Even though I was hurt, I did not let it affect me and was able to ball out.
If you didn't play football, what other sport would you play?
If I did not play football, I see myself playing basketball. I played my freshman, sophomore, and senior year of high school. I was not a bucket getter though. I was more of a defensive, pass first type of guard.
What is something that you are most proud of? What would you say is your biggest achievement?
I have been named first team all conference in both the PSAC and NE-10. I also made Honorable Mention as an All-American last year. But I'm most proud of the fact that I am going to be my parents' first child to graduate college. My biggest achievement is making my mom proud of who I was raised to be. 
Describe one of the most memorable plays of your collegiate career.
The most memorable play of my collegiate career was my sophomore year vs Shippensburg. We were in cover 2 and I was pressed up. I was outside leverage so I let the WR take the inside and when I looked back for the ball, I saw it being let go. I put my hand up and the ball stuck right to my glove. Next thing I know , I'm hitting the ground, I pop up, and spin the ball. The spin wasn't even planned, it was something that just happened. Later that day, ESPN dm on twitter. I was featured on Small Schools Big plays, #1 play for SportsCenter's Top 10 plays in College Football for week 6, and #2 on Sports Center's Top 10 plays. 
Do you have a favorite athlete or professional team? Is there a player that you model your game after?
My favorite professional team is the Eagles. I do not try to model my game after anyone, but I do watch NFL DBs, like Tyrann/Logan Ryan/Chris Harris/Tre White, and try to use certain things that they do. Technique wise and for little tricks that I see.
Who is your favorite music artist that gets you pumped before a game?
Right now my favorite music artist is either Lil Baby or G Herbo. G herbo be talking on his tracks so I feel like G herbo gets me in my zone.
What is your favorite comfort food?
My favorite comfort food is definitely mac and cheese. Not just anyone's mac and cheese though because not everyone knows how to make it. It has to be my moms. I'll try someone else's but nothing tastes like how my mom makes it. 
Do you have a favorite movie or actor?
I do not have a favorite actor but my favorite duo is Will Smith and Martin Lawrence.
What do you do in your spare time? Do you have any hobbies?
In my spare time I either do field work, film study, Call of Duty, Madden, or 2k
Who or what motivates you the most?
The thing that motivates me the most is wanting to be great and wanting to change my family's life. I want to get to the NFL and become a great. Also I want to be able to put my Mother first and foremost, brothers and sisters all in a better situation. And be able to support what they want to do in anyway.