The 2022 NFL Draft was a wild one, to say the least. Trades were being made left and right, and primarily wide receiver being a target for many teams. We saw a total of six wide receivers go in round one this year, including:
Drake London – Pick #8 – Atlanta Falcons
Garrett Wilson – Pick #10 – New York Jets
Chris Olave – Pick #11 – New Orleans Saints
Jameson Williams – Pick #12 – Detroit Lions
Jahan Dotson – Pick #16 – Washington Commanders
Treylon Burks – Pick #18 – Tennessee Titans
Some of these receivers will immediately be the day 1 WR1, and some will have time to develop into their own as a 2nd or 3rd option. In this article, I will be breaking down the scenario for each of these wide receivers and giving a grade for each of their scenarios. I will be using a 40-point scale, with 4 different factors contributing to the grade (25% or 10 points each). Those factors are coaching, potential rate of usage, quarterback play, and fit among the offense. Please note this is not the talent of the receiver at all, but the situation they were drafted into. Each of these are purely opinion-based, however, I will try to make them as logically driven as possible to get a true reading on this. So without further ado, let us begin with the first receiver taken.
Drake London – Atlanta Falcons
Coaching: 6 / Potential rate of use: 10 / Quarterback play: 4 / Fit among offense: 7 / Total Grade: 27/40 (67.5%)
Drake London, being the first receiver drafted, was one of the more interesting scenarios in the draft. Simply put, London has all the talent in the world, and will be a great addition to the Falcons this season. The Falcons' coaching is about a 50/50, as Arthur Smith did not lead the team to a winning record last year, however, he did well with the roster provided. London will be the WR1, without a shadow of a doubt. He will also have Kyle Pitts and Cordarrelle Patterson as teammates to draw some attention. He will get touches in this offense to make things clear.
His quarterback play will be interesting to see pan out, as Marcus Mariota for now seems to be the day 1 starter who could prove to be good, but for now, simply is a low-end starter in the league. In terms of his fit among the offense, it should be one that is productive and makes plays. The only interesting part is how he will work alongside another big-bodied catch and run player in Kyle Pitts. Regardless, they should work perfectly together in the grand scheme of things.
Garrett Wilson – New York Jets
Coaching: 7 / Potential rate of use: 8 / Quarterback play: 6 / Fit among offense: 9 / Total Grade: 30/40 (75%)
The second receiver chosen in the 2022 NFL draft was Garrett Wilson, out of Ohio State University. Wilson also has a pretty interesting scenario, as he will be walking into quite a few unknowns in NY. Robert Saleh coming from the Kyle Shanahan tree should be able to improve the Jets this year, and despite having a worse record than the Falcons last year, I believe that was due to rookie struggles with the QB rather than coaching. Wilson is likely to get less utilization in year 1 compared to London as he has other playmakers at the WR position in house. Elijah Moore, Corey Davis, Braxton Berrios, and potentially Denzel Mims are all competing for some of the top 5 WR roles.
On top of that, they have Breece Hall now and Michael Carter at RB, as well as C.J. Uzomah at TE as other playmakers. The quarterback play from Zach Wilson should improve this year with his development. However, it would be hard to give Zach an elite score until we see it. In terms of Garret's fit alongside his teammates, he brings a great all-around receiving presence to an offense with slot receiver Elijah Moore and another outside presence in Corey Davis. Overall, Garrett should fit in well with the Jets and have a very solid year 1 with the team based on this.
Chris Olave – New Orleans Saints
Coaching: 6 / Potential rate of use: 6 / Quarterback play: 7 / Fit among offense: 10 / Total Grade: 29/40 (72.5%)
The third receiver prospect we saw drafted was another OSU product in Chris Olave. Olave may have been put into the best team situation overall to be transparent. However, what the team gets out of QB Jameis Winston and new HC Dennis Allen will be the key to his success. With former Buckeye Michael Thomas and recent veteran addition Jarvis Landry, Olave will be receiving some of the best player coaching a rookie receiver can get. Dennis Allen as a head coach has an 8-28 head coaching record, but his latest endeavor was a 9-0 shutout of the Tom Brady led Buccaneers. We will see how he does in his first season for NOLA with some premier talent on both sides of the ball.
Olave will likely have the most minimal usage rate of any of these receivers due to Thomas and Landry also being on the depth chart. However, his ability to get deep on the field may make him just as productive regardless. Jameis Winston should end up being a quality QB for the Saints this year after what we saw in his 7 games last year. However, again, until we see it full time, especially after an ACL injury, let's not jump the gun either. Olave's fit with the Saints' offense is exactly what they needed, a deep threat with a diverse enough route tree to get Michael Thomas open. The addition of Landry to the slot makes this an even better fit overall.
Jameson Williams – Detroit Lions
Coaching: 6 / Potential rate of use: 8 / Quarterback play: 5 / Fit among offense: 8 / Total Grade: 27/40 (67.5%)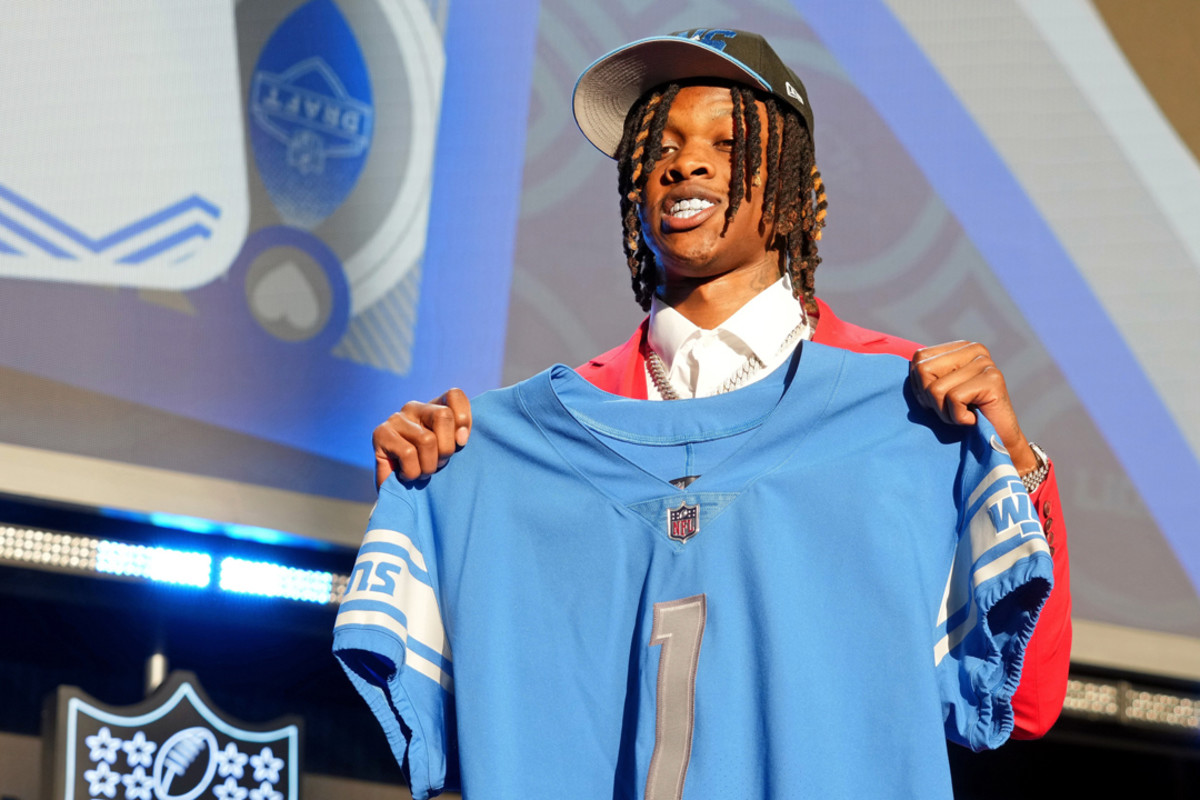 The fourth receiver picked in the draft was also coincidentally a former OSU receiver, turned Alabama receiver, in Jameson Williams. The coaching in Detroit is similar to that of the Jets, in that Dan Campbell is a disciple of another great HC in Sean Payton. However, last year we did not see much in terms of results due to the roster, so we will have to wait and see. The only reason I held off from a 10 for Jameson in usage rate is due to his injury, as he could miss a little bit of time.
Regardless, he is going to be the WR1 alongside Amon-Ra St.Brown in Detroit. The QB play for the Lions is predicated around Jared Goff, who is good but does not have that "next level" in him to develop. Williams will be interesting as a WR1, as he will be coming off an injury and his game is heavily focused on his speed. Despite this all, he should have a good season once he gets playing time.
Jahan Dotson – Washington Commanders
Coaching: 8 / Potential rate of use: 6 / Quarterback play: 6 / Fit among offense: 7 / Total Grade: 27/40 (67.5%)
The second to last receiver drafted in the first round was Penn State's Jahan Dotson. Out of all the coaches listed so far, Ron Rivera is, at bare minimum, the most proven. This will give Dotson a leg up over the competition, as he will immediately start learning from a veteran coach in this league. I do believe his rate of use is lower than most, however, as he has competition. Terry McLaurin & Curtis Samuel will both provide this competition, as well as Dyami Brown from last year's class.
This offseason the Commanders brought in QB Carson Wentz. We all know that experiment did not go that well for the Colts last season, missing the playoffs. However, Wentz is a solid enough QB, similar to Jared Goff to an extent. While Jahan Dotson has a similar type of play style to Curtis Samuel, he should be able to differentiate his game due to his ability to change speeds throughout the route multiple times. Dotson should get an immediate shot to make an impact in the Commanders' offense.
Treylon Burks – Tennessee Titans
Coaching: 7 / Potential rate of use: 10 / Quarterback play: 7 / Fit among offense: 8 / Total Grade: 32/40 (80%)
Finally, we have the receiver who was the pick that got traded for A.J. Brown, Treylon Burks. While Mike Vrabel has his moments both good and bad, he has quite a bit of experience The main focus here is that Treylon Burks is automatically a shoo-in for a starting role. While they do have Robert Woods who will likely be WR1 opening day, Burks will get at minimum WR2 targets. Ryan Tannehill has his negative moments for sure, especially last season, which is why the QB grade is not higher. Tannehill is solid though and will be able to get Burks the ball throughout the season.
In terms of Burks' fit with the Titans, I believe he should slot right in for their offense. He has a very similar play style to that of A.J. Brown, which is presumably why they drafted him. Having a guy who can immediately be similar to the player that is demanding a trade is a pretty reasonable tradeoff. Burks should have a very good rookie season, and the pressure is off him slightly with Derrick Henry taking the reins of the offense regardless.